This tutorial will show you 8 easy steps with pictures to follow in order to install WordPress from cPanel using Fantastico.
Fantastico is the leading auto installer for cPanel servers. It gives users the ability to quickly install dozens of the leading open source website software packages directly onto your domain without having to use FTP. This means that Fantastico basically gives you a Turn Key installation solution for web software systems like WordPress that once completed allows you to just log right in and start posting content to your new site.
Here are the steps you would take to install WordPress onto your domain using Fantastico:
Step 1:
Unless you are already logged into your website's cPanel account, do so now.
Step 2:

Scroll down in your cPanel Account until you see the Fantastico icon and then click on it.
Step 3: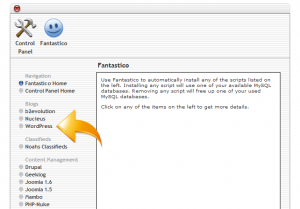 In the left column, under Blogs, click on the option for "WordPress".
Step 4: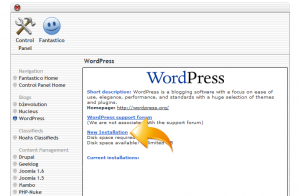 In the right side of the screen, click on the link for "New Installation".
Step 5: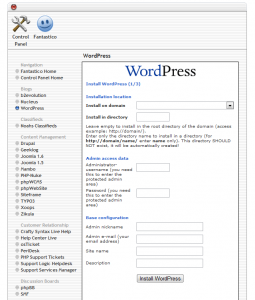 From here, you will configure the WordPress installation. You should select which domain and directory you want to install WordPress onto. Then you will set up the Administrator Access username and password. You will then choose the Admin nickname, which is how the Administrator user name will appear on the site. Then enter in the email address for the Administrator, which sets the default contact email address for the site. Then enter your Site Name and Description. The Site Name is the most important label for your site, followed by the Description(or Tagline) of what your site is about. Once you finish setting these options, click the "Install WordPress" button at the bottom of the screen.
Step 6: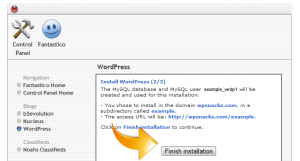 From this screen, review the WordPress configuration and then click the "Finish Installation" button at the bottom of the screen.
Step 7: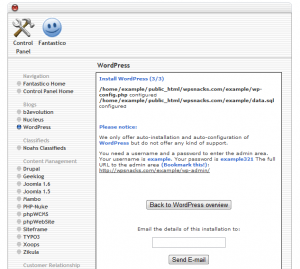 Now that the installation is finished, this screen shows you the details of your installation and gives you a link you can click to access the WordPress Dashboard for your site. You can also enter an email address to have the WordPress settings emailed to you, which I recommend. You can then either choose to go "Back to WordPress Overview" or otherwise exit the page.
Step 8: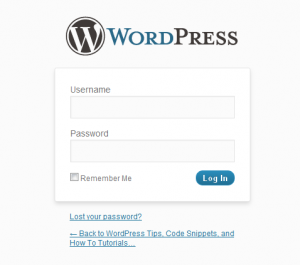 You can login to your new WordPress site using the link provided in Step 7. It will be similar to: http://www.wpsnacks.com/example/wp-admin/. Here you will use the Username and Password you set up for the Administrator during the WordPress Installation.
That's it. You have now successfully installed the WordPress Content Management System(CMS) on your site using Fantastico from within cPanel. Login to your new site and start blogging!